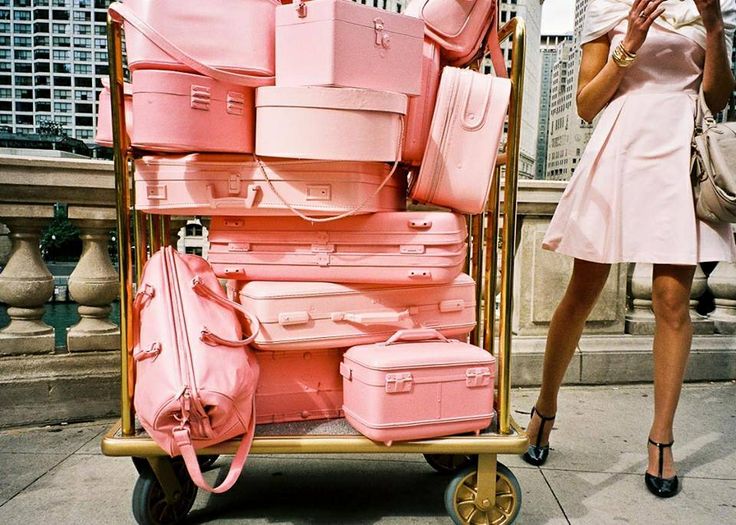 A suitcase guide for those looking for the right travel companion. You should never go down on having the right suitcase. It will guard all your belongings, while taking a few hard knocks in airports, planes, trains, cars and hotels. Finding the right one to match your needs can be difficult, so be sure to try out a couple in a store to find the right fit, size, features. Personally I love a big suitcase, as I am hopeless at packing light. I need to bring something for all kinds of occasions, as my travels will normally consist of different kinds of events, meetings, physical activities and much more. This guide will focus on a selection of larger size suitcases ideal for a week's vacation.
Eastpak
Although a sucker for the larger suitcases, I love the size of this suitcase. The Eastpak Tranzshell L (75 L) suitcase has ample room for an extended weekend or a mini week in a big city. The suitcase opens up in two zipped up compartments to protect your belongings. The suitcase is a chic hard shell but is lightweight, as it only weighs 3,8 kg – light for a hard shell. It has four wheels for easy transportation to and from airports and your home/hotel. The zippers lock in a TSA combination lock that can be opened by airport security to keep your belongings safe. Four wheels underneath and the light weight of the suitcase make it a breeze to travel with.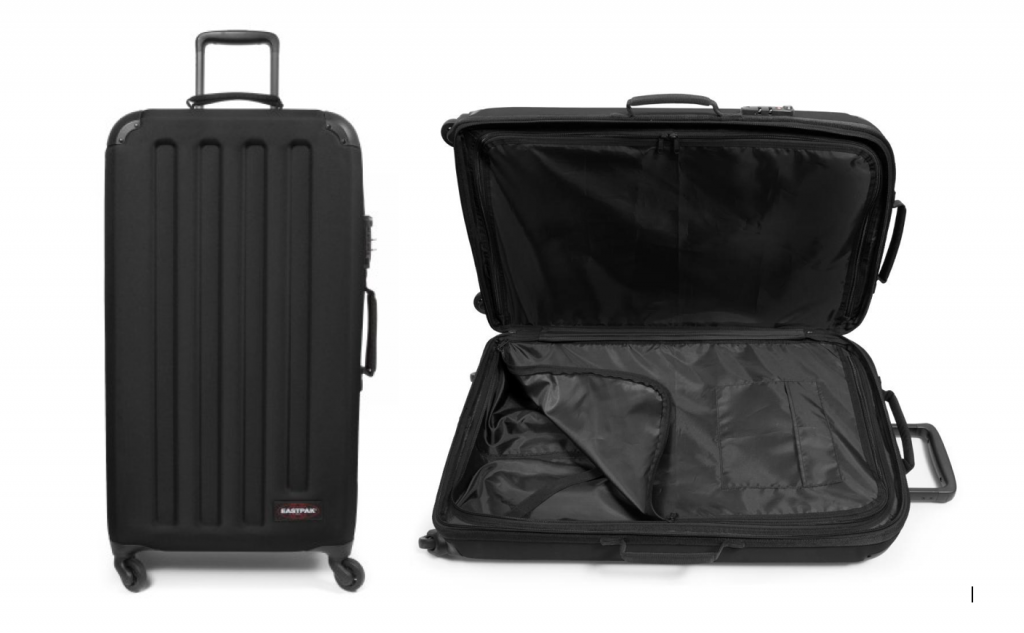 Lipault
The French luggage specialist Lipault has just created a chic collection of bags and luggage with the French designer/style icon/muse/writer Inés de la Fressange. The suitcases are soft shell and therefore somewhat lighter. The largest in the collection (96 L) weighs only 2,77 kg, light for a four wheel spinner, and makes a worthy contender to the heavier hard shell suitcases, as you are really able to maximise the 23 kilo, which is the normal baggage allowance on most flights. The capsule collection design is minimalistic and kept in the French navy and red with a touch of white to celebrate the French tricolore. The interior is one big case with outer case pockets for extra storage and the locks are also TSA approved. Vive la France.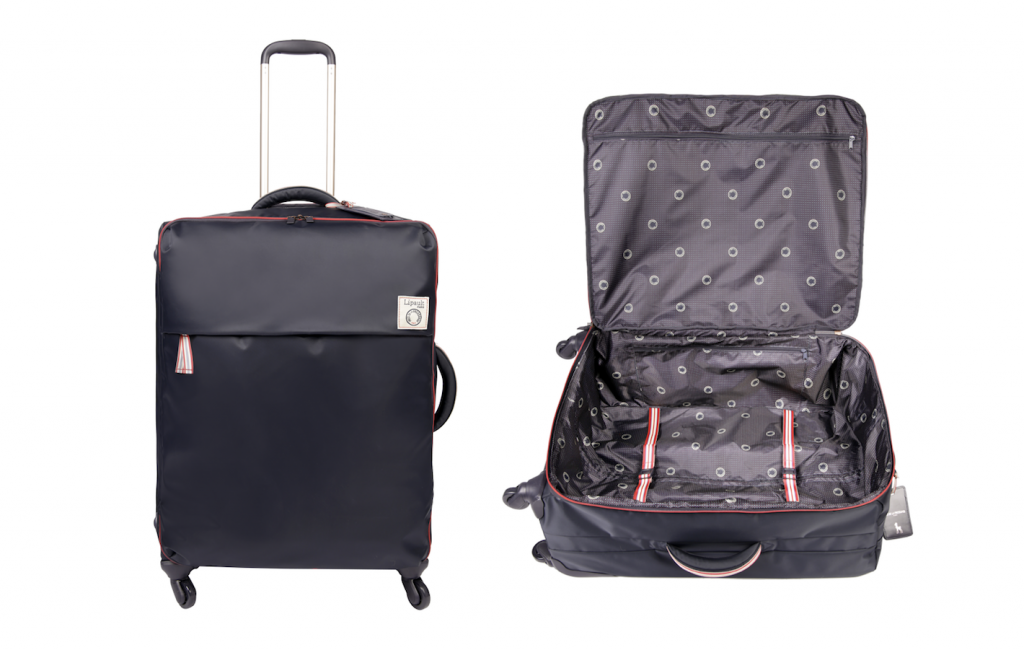 Raden
The fairly new company Raden is behind the A28 Check suitcase. A more high-tech choice and it is therefore an excellent alternative for frequent fliers. The features are amazing for people travelling a lot. Integrated in the handle is a weight so you are able to weigh the suitcase and can avoid having to repack your suitcase at the airport in case of overweight (which has happened to me at more than one occasion – no comments). As Bluetooth technology is implemented in the suitcase a smartphone app can track your suitcase, should it get lost. And you can charge your iPhone through the suitcase. Also a suitcase a bit on the heavier side at 5,8 kg.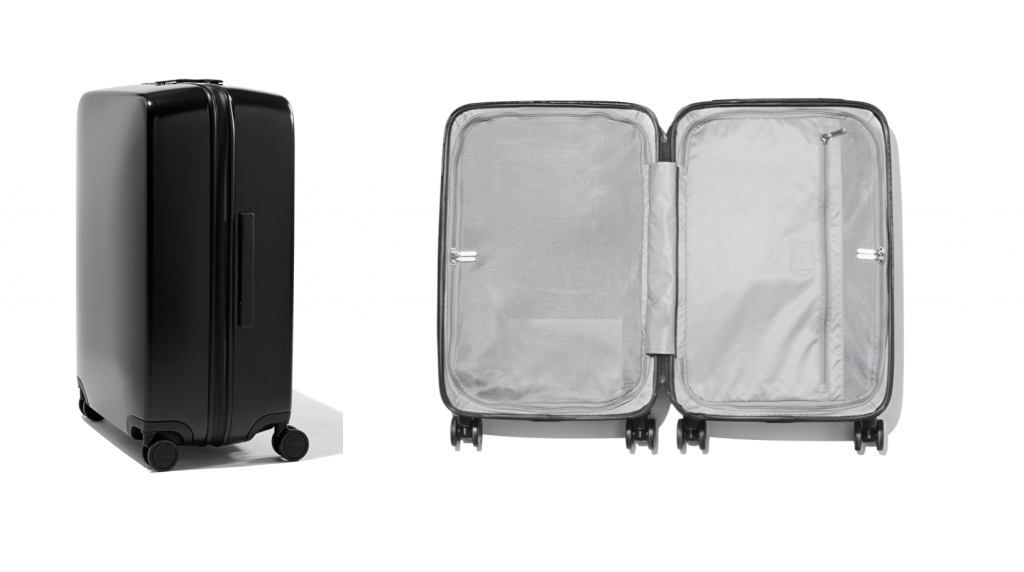 Rimowa
The Classic Flight Multiwheel (85 L) from Rimowa is a hard shell suitcase. The size is perfect for the one week big city visit. Beige lining compliments the exterior aluminium case. It has a flex divider that can be extended to fit extra clothing while keeping them pressed to minimise creasing. The exterior shell will be dented when travelling, so should you choose this suitcase, be prepared to see your companion get bruised. However, I would say it adds character and tells the story of your many journeys. Four wheels for easy transportation. The suitcase is a bit on the heavy size weighing 5,9 kilos.